A Jacquard Patterned Coverlet by Henry Oberly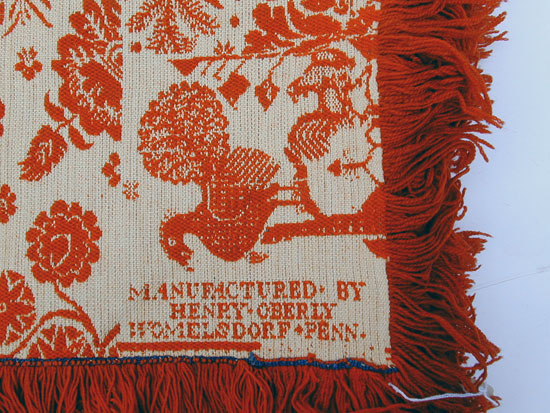 This pristine Jacquard pattern coverlet was woven by Henry Oberly, Womelsdorf, Pennsylvania. He is known to have been working by 1836 and working through the mid-19th century.

His corner block contains the word "manufactured" indicating his professional status as weaver. The peafowl or "ugly chicken" is almost like a "logo" for his coverlets.

This example is unusual in that the vast majority of Jacquard pattern coverlets manufactured in Pennsylvania are multi colored, not just one color combined with white.

The red color and fabric are vibrant and in super condition. This example measures 82" X 90" not including fringe.
Price: $1875
If you are interested in buying this item, please call (860) 267-2146 or email philt@snet.net