A Horstman's Type 1 Model 1840 Wristbreaker Saber -
SOLD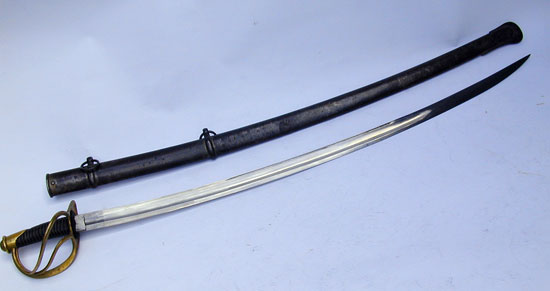 W.H. Horstmann & Sons were dealers in military goods. the history of the firm began in 1828 with William working in Philadelphia.

This saber was assembled During the Civil War by Horstmann in New York with blades believed to have been made by Emerson and Silver from a previous contract. Note the "wedge" mark on the blade by the hilt. This mark is assigned to Emerson and Silver. It is also felt the rest of the parts originated here.

Many makers of the "wristbreaker/aka/ Model 1840" sabers purchased imported parts from Germany. Horstmann did this with subsequent contracts.

The blade is in super condition. The guard retains it's original leather and fine twist wire wrap. The scabbard has some surface rust and a few areas might (if cleaned) show pitting.

The entire piece measures 43 1/4" long overall and the blade measure 35 1/2"