A Pattern 1864 Civil War Cartridge Box by Wilkinson -
SOLD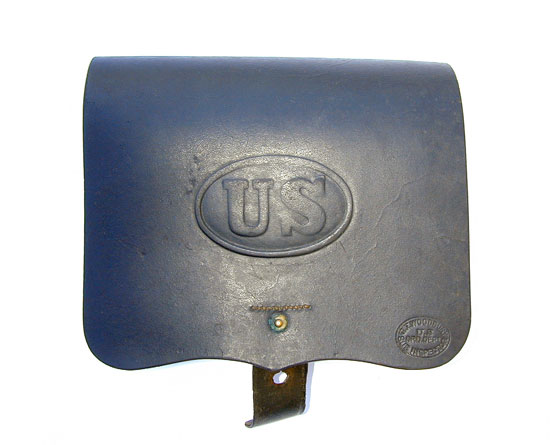 This Pattern 1864 US Cartridge Box, is the final pattern adopted by the United States during the Civil War. The pattern was established in July of 1864.
Considerable numbers were produced and delivered before the end of the war. There is photographic evidence that some were issued during the war although most remained in storage.
This fine example by Wilkinson of Springfield, Massachusetts is unissued. The two tins still retain all of their bright finish. The leather shows minor cracks due to age. The buckles have all of their Japanned paint. The stitching remains tight and strong.
There is a perfect Woodbury Inspector's mark on the face of the box and a decent Wilkinson stamp on the interior flap.
The box measures 8 1/4" wide by 6 1/2" tall. This was treated with Pecards Leather Treatment.