An 1861 Contract Musket by Wm Welch Norfolk CT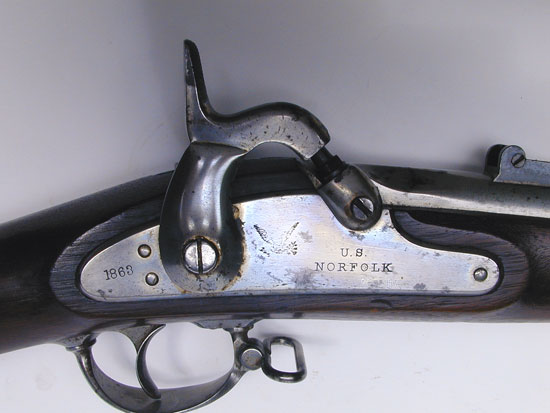 With the onset of the Civil War the government called upon contractors to produce materials necessary for the war effort. This musket was manufactured by William W. Welch with various partners under the firm of Welch Brown & Co. They received two separate contracts. The first was issued on November 6, 1861 for 18,000 arms. They delivered a total of 16,000 arms under this contract. The second contract was issued January 12,1864 for 2,500 stands of arms of which they delivered 1000. This musket is dated 1863 and was made under the first contract. These were all made with interchangeable parts.

As is the case with most Civil War Contract Musket manufactures, much of what they manufactured was done under sub-contracts. Various parts were produced by others and the final product was assembled in Norfolk.

These muskets have rifled barrels and are .58 caliber. The musket is in fine condition with a fine bore with some minor etching near the muzzle likely caused by a wood tompion ( A wood tool designed to keep foreign objects out of bore.) There is a strong strike of the Welch mark on the stock opposite the lockplate. There are some of the usual nicks and dents found on the stock. The edges on the stock a quite strong. The musket measures 56" overall.


DISCLAIMER: This musket is sold as a collector's item only - we do not accept responsibility for the safety of this piece for its reliability for shooting. This item is described as accurately as possible. If you plan to shoot any antique firearm, seek the opinion of a qualified licensed gunsmith.

It is the responsibility of the purchaser to be aware of any local or state regulations regarding owning antique firearms where they live.

Price: $2950
If you are interested in buying this item, please call (860) 267-2146 or email philt@snet.net