A Springfield Model 1864 Civil War Musket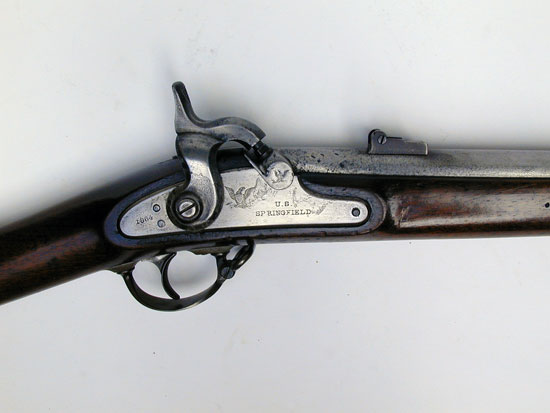 This was the last production model of musket made for the War Effort.

Springfield Armory was very active during the Civil War producing Model 1861, 1863 & 1864 Pattern Muskets. This example of a model 1864 is in very good plus condition, retaining inspector's (Erskine Allen) marks on the stock, all the correct original parts.

This musket features the correct rear sight where the use of a two leaf feature was changed to a single leaf with a hole in the leaf for the 300 yard range sight.

This musket saw service attested to by the signs of use. The bore is in very good plus condition. A nice example of a late war musket.


DISCLAIMER: This musket is sold as a collector's item only - we do not accept responsibility for the safety of this piece for its reliability for shooting. This item is described as accurately as possible. If you plan to shoot any antique firearm, seek the opinion of a qualified licensed gunsmith.

It is the responsibility of the purchaser to be aware of any local or state regulations regarding owning antique firearms where they live.

Price: $1750
If you are interested in buying this item, please call (860) 267-2146 or email philt@snet.net