A Pair of Engraved Plates by Edward Danforth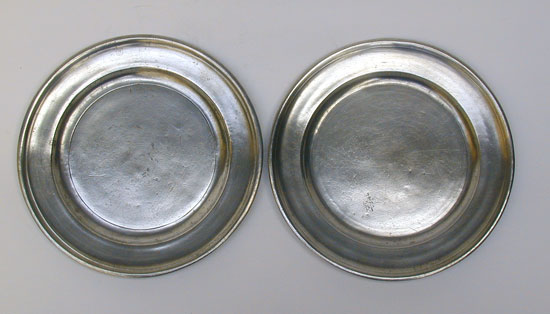 An attractive pair of engraved 8" pewter plates by Edward Danforth, Hartford, Connecticut, 1786-1800.

Edward was the third son of Thomas Danforth II. He was born in 1765, he apprenticed with his father and after his father's death likely finished his training via his two older brothers, Thomas Danforth III and Joseph Danforth Sr.

Edward was a skilled pewterer. This pair of plates are in very good condition with beautifully engraved initials "RB" of the style taken from English Pattern books. Collectors sometimes refer to these as "Boston Initials" as this method of engraving was very popular there. Price is for the pair.
Price: $750
If you are interested in buying this item, please call (860) 267-2146 or email philt@snet.net