A Stunning Set of Samuel Ellis Flat Rim Antique English Export Pewter Plates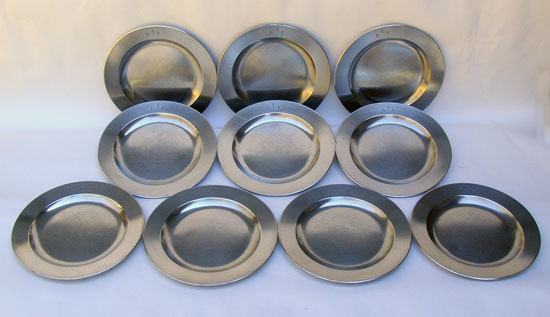 Sets of 18th century flatware are uncommon as is this very fine set of 10 flat rim plates by Samuel Ellis of London 1721-1765. Samuel Ellis had a very substantial market in the Colonies, particularly New England.

He is known for flatware including plates dishes and basins in a wide range of sizes, mostly reeded rim design. He also produced tankards in quart sizes of tulip and taper-sided styles. Tulip form pint mugs are also found by him some with ball terminal handles and others with double "C" acanthus leaf handles. Spire flagons are also found bearing his touches. Lastly he is well known for the pear form teapots with wood handles he made in a number of sizes with and without feet.

A manuscript invoice and letter in the Boston Public Library uncovered by Nancy Goyne Evans, circa 1764-1765 to merchants Caleb Blanchard and John Hancock in Boston has some interesting information about Mr. Ellis. The invoice was for a large quantity of pewter from the London firm of Robert and Thomas Portues. The order consisted of 9 Casks of Pewter.

This order was typical of orders placed by larger merchants during the Golden Age of Export pewter circa 1720-1760's. It is of great interest to note the letter that came with the invoice wherein Robert & Thomas Portues, noted the following about the export trade.

"We are very much afraid our Trade to America is rather upon the decline owing to the vast improvements you are making every Year in all your Manufactorys--- Mr. Ellis the Pewterer has left off Business & is going to retire in ye Country, he has been famous for many Years in dealing in the Article of Pewter, & I don't doubt but you have heard of him.—"

This set of 9 ½ flat-rim plates are in fine condition with a few minor sporadic pits. The plates are beautifully hammered on the booge with six rows of small hammer marks. The metal is of the highest quality found in 18th century flatware. There are finely engraved initials on face of the rim. There are some knife marks as this set indeed saw use, but were exceedingly well cared for. This set will make a nice addition to any collection of export pewter.

Price: $1675
If you are interested in buying this item, please call (860) 267-2146 or email philt@snet.net