An 18th Century Pewter Infusion Mug by Henry Joseph -
SOLD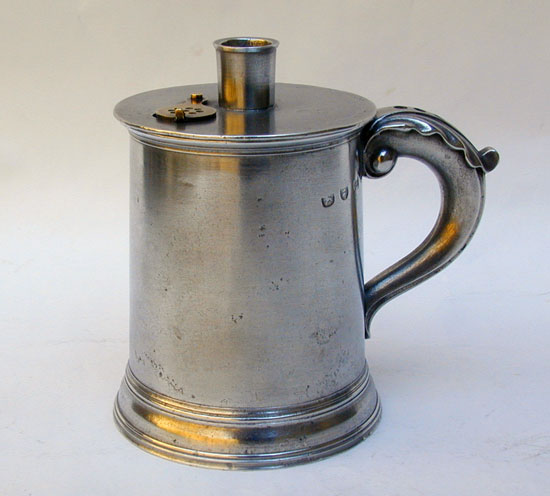 Camphor was and still is used medicinally to treat numbers of ailments as it is used to help with respiratory problems and is currently found in Vics VapoRub.

Infusion Mugs like this example were used to aid in the treatment of respiratory ailments. A small piece of camphor was placed in the compartment under the brass grate on the top of the mug. The body of the mug was filled with boiling water, but below the underside of the lid. A hose was attached to the chimney on the lid. The patient sucked/inhaled air through the hose.

The holes on top of the brass grate and handle allowed air to flow into the water drawing outside air over the camphor. The combination of fresh air infused with the camphor soothed the congestion of the patient's lungs. Working like a modern vaporizer.

This 18th century Infusion Mug was made by Henry Joseph who worked in London from 1736-92. It is likely an Export Piece.

Note that the "HJ" initials in the last hallmark have been purposefully obliterated. When the touch mark on the interior of the mug is viewed it is obvious that the same treatment was given to that touch as well. One could surmise that another pewterer fulfilling an order to the Colonies did not want his customer to know the maker of this item, and by stamping out the initials on the hall marks and the name on the main touch, Henry Joseph was kept out of the picture.

Measuring 5 3/8" tall to the top of the chimney and 4 3/8" tall to the lip of the mug. The infusion mug has some pitting on the inside and some distress on the outer surface. An Acanthus leaf decorated double "C" handle was truncated and used on this piece. An attractive medical item from the 18th century.