A Pattern 1851 Civil War Eagle Buckle with Modifications of 1861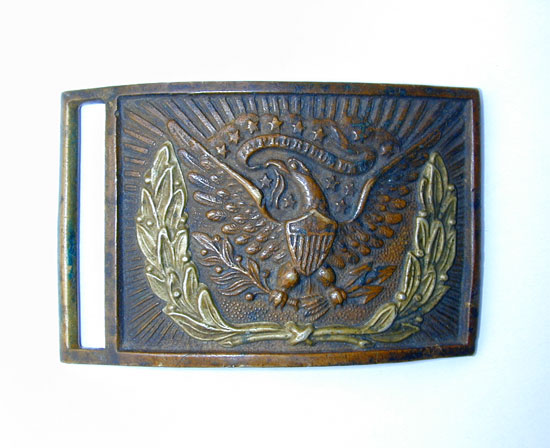 Many collectors refer to these brass eagle buckles with applied German Silver wreaths as NCO on Non Commissioned Officers buckles. Although these were indeed used by NCO's they were also issued to enlisted troops of the Cavalry Light Artillery and Dragoons.

This example has a single piece German Silver Wreath. Regulations issued in November 1861 called for the one piece wreath and making the buckle slightly wider 2.2" instead of the previous 2". This buckle is 3 3/8" long. like the other example the decorated side is curved outward. This example has the bench number "701" stamped near the tongue. In fine condition. Some collectors refer to this as the 1861 buckle.
Price: $335
If you are interested in buying this item, please call (860) 267-2146 or email philt@snet.net