An Ames Civil War Artillery Saber Dated 1864 -
SOLD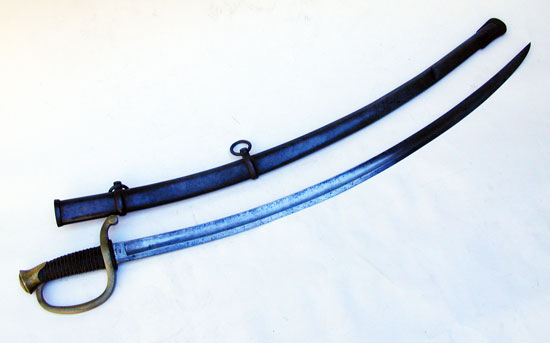 The Ames Manufacturing Co of Chicopee Massachusetts produced considerable numbers of Artillery and Cavalry Sabers for the Union during the Civil War. In spite of their sizeable production, sabers from foreign makers were imported in great quantities to fulfill the needs of arming the North and South.

This model 1840 saber is dated 1864 and is in very good plus condition with strong markings on the blade and proper inspector's marks on the scabbard. The scabbard does have a dent toward the drag. Some collectors term this as a "door jamb" dent. Supposedly done by soldiers to keep the saber from rattling in the scabbard, thus reducing noise.

The saber in scabbard measures 39 1/4" overall the blade 32 1/4".