A Pewter Glass and Brass Chamber Lamp by Smith & Co. -
SOLD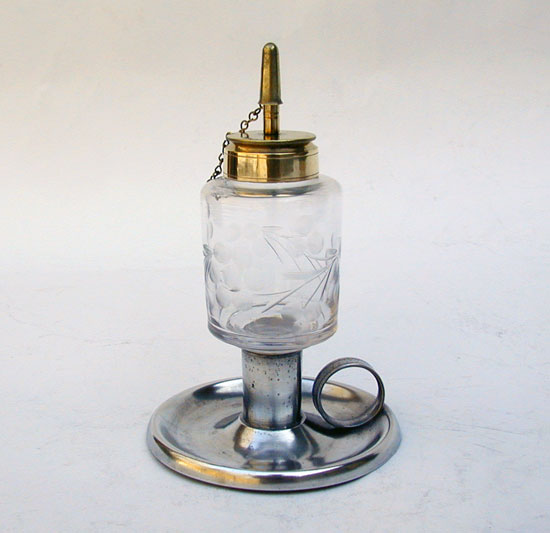 Smith and Co was located at 3 Haverhill Street in Boston from 1847-1849and they were successors to Thomas Smith and Co and were succeeded by Smith Morey and Company.

This chamber lamp is a combination of products from two different industries of the period, the pressed glass trade and the pewterering trade. The font for this lamp is pressed and cut glass likely produced by one of the glass makers in Sandwich or elsewhere in Massachusetts. This particular font is beautifully cut with foliate decoration.

Smith & Co produced the "chamber stick" part. The font was attached to the pewter with plaster that holds to two parts together. The brass burner and its collar were attached the same way.

The lamp is in fine condition metal and touchmark. The lamp measures 6 1/2" to the top of the burner. A very attractive combination of different metals and glass.