An Unmarked Trask "Bright-Cut" Engraved Pewter Teapot -
SOLD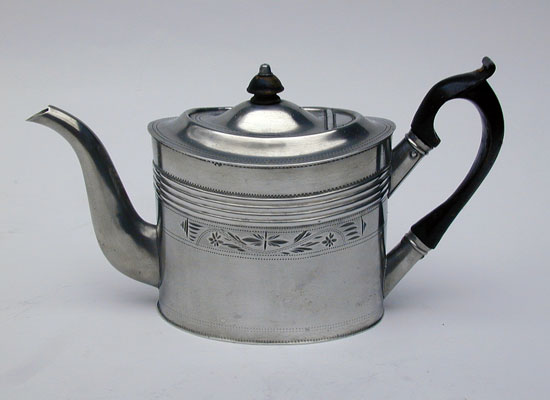 Israel Trask worked in Beverly, MA from 1813 to 1856 during his career he made every effort to keep his designs in keeping with the current market.

This teapot without feet and a curved spout is the second design in his "stable" of designs. The earlier version of this teapot had a "straight" tapered spout typical of early Federal style teapots. This teapot was at the time a more "modern" design. This teapot as is the case with most Trask tea and coffeepots is beautifully "bright-cut" engraved.

The next "advance" was the addition of 4 ball feet to the bottom of the teapot..Additional changes were introduced throughout his working period.

This teapot is in fine condition and retains its original handle and wood finial. The pot is 6 1/4" tall to the top of the finial and 10 3/4" long.