An Export Pewter Pear Form Teapot by Townsend & Compton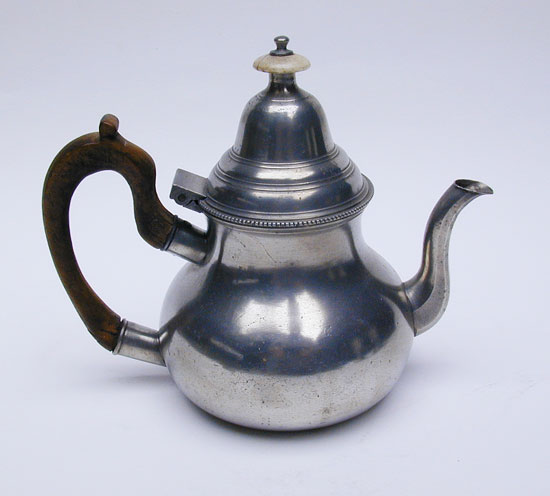 This English Export Pewter pear form teapot is a product of the shop of Townsend & Compton. A partnership between John Townsend and his Son-in-Law Thomas Compton. The partnership was formed in 1784 until 1802. John Townsend died in 1801.

This teapot is in fine condition and retains its original handle as well as its original bone finial button. We had an identical example a while ago which incidentally had its original handle of the same design as the one on this teapot. The lid has beaded decoration along the bottom edge. The piece measures 6 3/8" tall to the top of the finial. As the Townsend groups were cognizant of fashion and design they continually had the products follow current market trends. This teapot is indicative of teapots made during the late 1780's until the beginning of the 19th century. The pear form body has no banding as is found on pots manufactured circa 1740-70's and the lid has a double stepped dome shape rather than the "bell" shape found on earlier teapots.

A wonderfully preserved example of a teapot by a major exporter to America.

Price: $875
If you are interested in buying this item, please call (860) 267-2146 or email hiltpewter@gmail.com